SELECT SOFTBALL
Select Softball is an opportunity for players in our recreational league who have a higher level of skill and passion for softball to play in a more competitive league IN ADDITION to playing on their rec teams. DHYS encourages formation of select teams in 8U, 10U, and 12U. Select teams are formed via player evaluations early in the SPRING season, and the select season typically runs from March-May with games on Sundays. DHYS competes against other Select teams from metro Atlanta rec programs.
2020 Select Rosters
8U
10U
12U Team A
12U Team B

Sammie Barton

Brynn Buchanan

Reagan Fields

Samantha Goldberg

Caroline Grubb

Lauren Gurion

Elizabeth Parsons

Shelby Roberts

Allison Smith

Sofia Srubas

Mary K Tedder

Madison Weaver

Elle Anderson

Porter Bemiss

Lena Castro

Emma Coulter

Adeline Gambrell

Erin Mason

Maggie Morran

Lydia Reese

Annabel Terry

Sadie Thomson

Destiny Williams

Annabella Dente

Kate Dickinson

Marlenny Hernandez

Mary Huey

Periwinkle Jeffers

Kyra Jeffrey

Bethany Mikrut

Erin Myers-Beck

Evee Owens

Parker Jane Smith

Zoe Smith

Guilia Torres-Botta

Kirsten Abbott

Caitlyn Bemiss

Leah Brosnan

Piper Brown

Katherine Cardwell

Lucinda Dignam

Riley McMillan

Ellie Rutledge

Claire Srubas

Danielle Zeff

Amelia Ziliak
ALL STAR SOFTBALL (Red Devils, Blue Devils)
DHYS All Star teams are formed later in the SPRING rec season in 8U, 10U, and 12U. All Star teams play AFTER the conclusion of rec league. While there may be carryover from the Select teams to the All Star teams, being on a Select team does not guarantee a spot on the All Star team. Teams are selected by evaluations in April, and tournaments are generally scheduled in May and June. The actual number of tournaments is determined by the individual teams.
Complete info re: DHYS policy on Select and All Stars:
2019 Softball Select and All Star Policy
For additional info, contact our Tournament Teams Director: Chris Dente
---
2019 DHYS TOURNAMENT TEAMS
2019 SELECT TEAMS:
12U DHYS Select: 3rd Place, end-of-season select tournament
10U DHYS Vipers Select: 2nd Place, end-of-season select tournament, 2nd place, GSA "The Girls are #1" travel tournament
---
2019 ALL STAR TEAMS:
DHYS 12U RED DEVILS
CHAMPIONS: USSSA STATE TOURNAMENT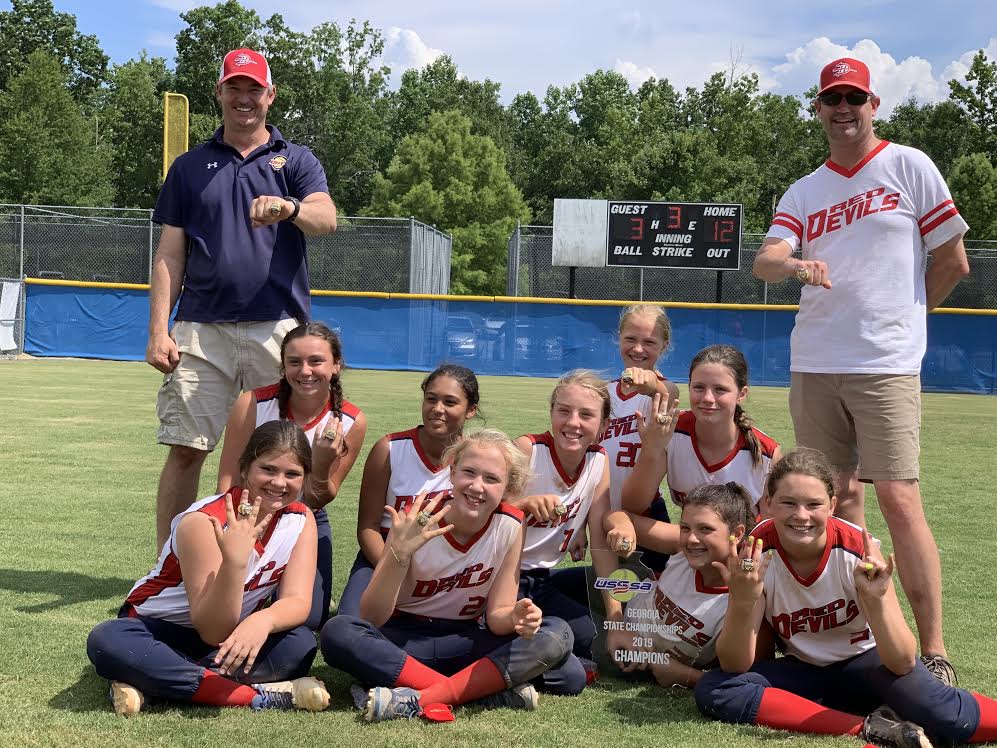 DHYS 10U RED DEVILS
SILVER BRACKET CHAMPIONS: SANDY PLAINS ALL STAR SHOOTOUT
RUNNER UP, GOLD BRACKET: SANDY PLAINS ALL STAR TOURNAMENT
CHAMPIONS: ALPHARETTA YOUTH SPORTS ASSOCIATION ALL STAR CLASSIC
CHAMPIONS: GSA TRAVEL WORLD SERIES

10U BLUE DEVILS
RUNNER UP: GSA TRAVEL TOURNAMENT "WHO WILL BE #1"

8U RED DEVILS